At Bradworthy we place a great deal of importance on sporting effort and achievement.
We encourage all of our children to participate in a great range of different activities both as a part of the
school curriculum and through clubs.

Click Here for the latest fixture list

2009 - 2010

I'm not completely sure that this is a sport .....
...... but we were certainly supporting Sports Relief !!!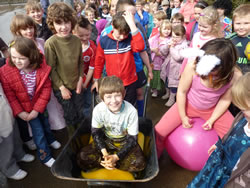 Click on the image to watch a video of the event.
Brad Wins Gold !!!

On Saturday the 13th of March Bradworthy sent a team of gymnasts to Bideford to compete in a gymnastics competition for the first time ever.

On Saturday the 13 of March Bradworthy school sent thirteen enthusiastic gymnasts to Bideford for their first ever competition.
They went full of hope but we didn't really think we would win anything as it was our first time, but surprisingly we did very well. Amazingly our under 7s A team got gold for their brilliant floor sequences and vaults.

The rest of our teams did excellently as well: our under 7s B team won silver and so did our under 9s team.
The schools only under 11, Ashleigh Boyd, had an excellent time and hopefully next year there will be some more under 11s to join the fun.
All the gymnasts had a lot of fun and were very successful in what they did and we think that this is a great achievement.
The whole school congratulated them in assembly and we also had a demonstration of the vault and the sequences.
It was absolutely amazing.
We'd like to thank Ashley's mum Kerry who helped our teams get ready for the competition.
Hope fully the gymnasts will win many more medals in the future but as long as they had fun it dose not matter how well they do.

James and Luke.
Final Win !!!

Bradworthy wins!!
Bradworthy netball team had a netball match on the 8th of March and it was a great win.
We played against Highampton . Everybody was so nervous, even though it was our last match. We were determined
to win a match because all our matches before were lost or drawn.
We scored three goals in the first quarter and we were thrilled, Evie played really well and scored the first goal. In the second
quarter we scored an exciting 5 goals and Lois scored a hat-trick! In the next quarter we scored one fantastic goal,
which went straight in.
In the last quarter we scored one last goal, which was a surprise because our goal shooter was being marked by a giant!!
So the score in the end was 10-0 to us.
Miss Daniels was thrilled with us because in our last match we definitely went off with a high !
By Casey and Chloe
Kingsley College Cross Country Running, 2010.

Some great performances but I think the quickest race was the one to get under the umbrella.
Bradworthy Win Again !

On Wednesday 17th March Bradworthy's Football A team went to Sandymear to play a number of games in
a friendly rally against the Bideford school teams.
We played lots of games against some very good sides and we are pleased with the end results.
Out team is at top form this year and hope to win the Merton rally again in a couple of months. We are
pleased that our team is able to win a lot of our games.
We can now relax a bit and focus on our coming tournaments.
In our best match we played against a very strong team called St Margarets's.
We have played them before and although both teams are quite even we've lost twice and drawn once
against them this season. Our A team were really determined to beat them.
So we played them again.
At half time both teams were playing well but we just had an edge to make the score 2-1 to
Bradworthy with goals from Josh and Gavin. In the second half St Margarets kept on attacking but Bradworthy
held on to win 2 – 1.
We think this is our best result of the year and we are really confident about the end of the season now.
By Brandon and Gavin.
We're having a climbing wall installed and the first bit of it is safe enough for us to have
a go on !!!

Danny was the first one who
was brave enough to
have a go .....


..... and the first one to get to
the top and touch the
ceiling !!!
Lois is afraid of heights but has always had an ambition to touch the hall ceiling ( which is a bit strange ! ).
Her dad gave us £5 for Children in Need to make her climb our new wall !
So we made her !!!
Our sports fixtures have started and these are the first
results of the season:

Football :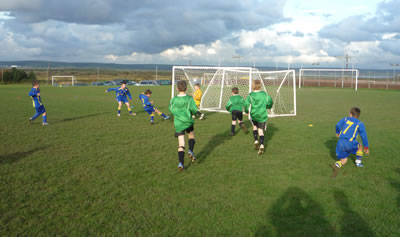 On Wednesday 7th of October our

A team Footballers went to Sandymere (Northam) to play our first football match of the season.

Our first game was against Kingsley school, we were playing on astro turf.

In the first half the ball was crossed in and Brandon scored, then a minute later Gavin hammered in a goal, it was 2-0 but they didn't stop fighting. The whistle blew, it was half time.

Later, in the second half, Kingsley had some hard shots, it was tense, but nothing went in the net, Kingsley were pushing the Bradworthy defence …..

Suddenly Brandon broke shot! Goal, 3-0 and full time.

We played an excellent game

by Luke and Luke




Bradworthy 3 - 0 Kingsley School
Bradworthy 1 - 0 Abbotsham School
Bradworthy 4 - 0 St Mary's A Team
Bradworthy 8 - 0 St Mary's B Team
Bradworthy 4 - 0 Westcroft School
Bradworthy B 5 - 2 Putford
Bradworthy B 0 - 2 Woolsery School
Westcroft B 1 - 1 Bradworthy B
Bradworthy B 0 - 3 Instow School
Hartland 5 - 1 Bradworthy B
Westcroft 0 - Bradworthy 3
St Mary's School 0 - 3 Bradworthy
St Margaret's School 2 - 0 Bradworthy
Halwill School 1 - 7 Bradworthy
Pyworthy School 0 - 9 Bradworthy
Bradworthy 2 - 2 Halwill
St Margaret's 1 - 2 Bradworthy



We've just played our first game of the season against Westcroft school and in the first few minutes we didn't play as well as we had hoped.
But when we started to pass the ball and move we opened up their defence and started to make space and then we got some goals.
The goal scorers were Matt, Gavin, Callum and Brandon.
As you might know Westcroft have been our number one rivals for years so it was great to beat them again ( especially as they usually win !!!).
Ollie is our goalkeeper and he made some great saves. He didn't let any goals in.

A Team : Ollie, Luke, Matt, Josh, Gavin, Douglas, Luke, Callum and Brandon

by Bradon and Gavin
Netball :
Holsworthy 1 - 0 Bradworthy

On Monday 4th October Bradworthy A team played their first netball match of the league.
They played at Holsworthy leisure center against Holsworthy Primary School.
Holsworthy have a strong team this year. Neither team had, had practice but both teams tried their best.
In the first half Bradworthy had brilliant marking and good defending. We could have scored
lots of times but unfortunately they all circled the rim and didn't go in. Although Holsworthy scored a very
good goal in the second half our team's goal keepers worked extremely well to stop Holsworthy
scoring again.
Miss Daniels was cheering us on and helping us through the game, and we had
lots of parents watching and cheering. Some of the old A Team even came
down to watch us and help us play and gave us useful tips.
The people who were off were said it was agonising to watch because it was
so close, it was unreal.
Everybody in the team was really proud even though we didn't win.
BY CHLOE AND CASEY

Bradworthy 2 - 2 Sutcombe
Bradworthy 2 - 5 Langtree
Broadwoodwidger 3 - 2 Bradworthy
Bradford 5 - 4 Bradworthy
Bradworthy 10 - 0 Highampton

2008 - 2009
North Devon Rugby Champions !!!
We've been taking part in the North Devon Rugby Championship for many years and although we've won the plate a couple of times and also been runners up of the main competition we've never won it.

That's all changed now as we won this competition for the very first time ever this year !

In addition to team success Gavin was voted player of the tournament.
Oceanfest 2009 at Croyde Bay in North Devon .........
Netball at Bideford College
The matches were very exciting .........
......... and exhausting !!!
We finished in 4th place overall which was a good result, and one which we were pleased with.

We won 2 matches and lost one at the North Devon Cricket Festival.
We were really pleased to finish 5th out ot 17 teams.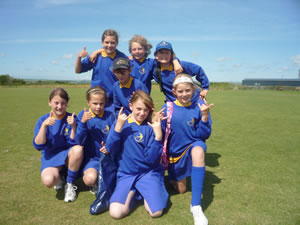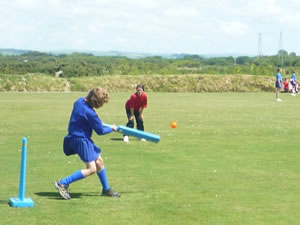 Kayaking Club, Summer 2009
Merton Rally


Our football team won the main cup competition, beating Langtree in the final .....
.... our netball team were runners up, loosing to Merton in their final.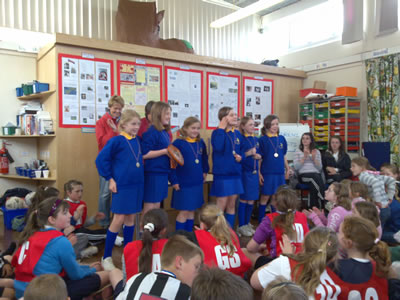 We had a very successful time at the Millennium Cross Country at Grenville College .........
This is the amazing Jess who won the girl's Under 9 Race.
We've had some strong runners in the past but this is only the second time that
the school has had a winner in this annual race !

Girl's Football at Budehaven School, March 2009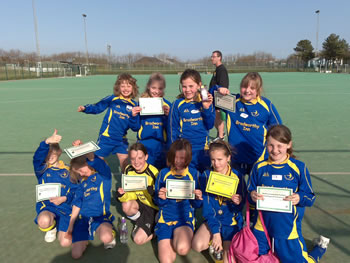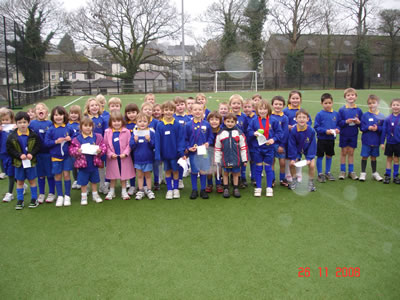 We took 38 children to the Key Stage 1 Multi-Skills Festival at Holsworthy College.
Everyone had a brilliant time and lots of the children came back with medals.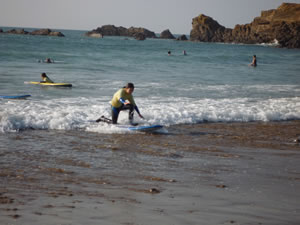 Our surfing club is running again this term.
Sports Clubs

74 % of children in Years 5
and 6 take part in at least 5 hours of sport each week.

100% of the children in
Clases 1, 2 and 3 take part
in at least one club each
week.

88% of the children in Years
1 and 2 take part in at
least one club each week.
Monday 5th October 2009

Netball v. Holsworthy

Wednesday 7th October 2009

Torridge Football Tournament (Sandymere)

Tuesday 13th October

Football v. Putford (home)

Monday 19th October 2009

Netball v. Sutcombe

Monday 9th November 2009

Netball v. Langtree

Wednesday 11th November 2009

Torridge Football Tournament (Sandymere)
Sutcombe v. Bradworthy (football) - postponed

Thursday 12th November 2009

Halwill A v. Bradworthy A (football)
- postponed

Wednesday 25th Novemebr 2009

Bradworthy A v. Pyworthy (football)
Bradworthy B v. Broadwoodwidger (football)

Monday 7th December 2009

Netball v. Broadwoodwidger

Wednesday 9th December 2009

Bradworthy A v. Holsworthy (football)
Bradford v. Bradworthy B (football)
- both matches postponed

Wednesday 13th January 2010

Bradworthy A v. Halwill A (football)


Monday 18th January 2010

Netball v. Pyworthy

Wednesday 20th January 2010

Torridge Football Tournament (Sandymere)

Monday 25th January 2010

Netball v. Bradford

Wednesday 27th January 2010

Pyworthy v. Bradworthy A (football)
Halwill B v. Bradworthy B (football)

Wednesday 10th February 2010

Holsworthy v. Bradworthy A (football)
Bradworthy B v. Highampton (football)

Monday 22nd February 2010

Netball v. Highampton

Wednesday 17th March

Torridge Football Tournament (Sandymere)
There will be a lot of other dates which will come up over the next few months including a number of
football leaguel fixtures, and Holsworthy Area events. These dates will be posted here as soon as
they are availiable..
If your child is involved with any of the above you will be informed.

back to the top of this page

2007 - 2008
Robin's Victory

Our Sports Day was fantastic. Everyone tried really hard to win but nobody got upset when they lost.
Mr Stephenson said that everyone was really sporting.
Robins won but it was really close. They only won by 5 points.

The day started with the finals of our team competitions. We played each other in football, netball, rugby and cricket. The children in Class 1 and Class 2 played football.
After break the little ones did their running races and they were really good.
It rained really heavily but they tried hard.
All of the children from Classes 3, 4 and 5 cheered.

In the afternoon the older children did their athletics. We did loads of running races and high jump, long jump and triple jump. We also did javelin and shot put.
Our longest race was the 800m and we also did hurdles, relay races and sprints like 50m and 100m.

Lots of our parents came to watch and it was really good to hear them clapping and cheering for us.

At the end of the afternoon Mr Stephenson gave us the results and he said that it was the closest sports day that we have ever Had.
Robins won by just 5 points.

Mr Stephenson said that he was really proud of how hard we had tried and how sporting everyone had been.

Rugby Success

We do a lot of rugby at school. We practice every week and we have three school teams. Our A-Team are really good and they have had a great year.

When we played in the Holsworthy Rally before Christmas our A-Team won. Our B-Team came third.
This is the third year running that we have won the Holsworthy Rally.

In the Spring we played in the Bideford Rally. Our A-Team won all of their matches but we finished second because Westcroft had scored five more tries than us.
We didn't play Westcroft but we think we would have beaten them if we had.

In the Summer we went to Barnstaple to play in a big rally against lots of big schools.
We won all of our matches but when we reached the semi-final we lost by one try. The try was scored in the last few seconds of the match.

We've had a really good year and we are very proud of how we have done.

Dartmoor 2008
Click on this image to view an interactive route card which some of our Year 6 children produced this June.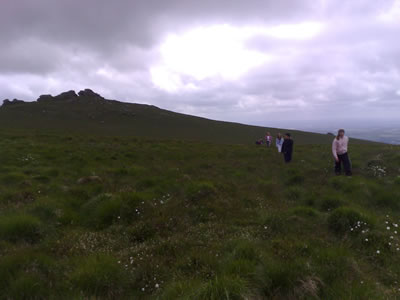 Year 3 and 4 Athletics Festival at Holsworthy College.
Sailing
Our sailing club has started again. These photos show our first session.
The session went really well but to be honest I don't think we'll be ready
for the Olyimpics until 2012 !!!
Netball Success at Merton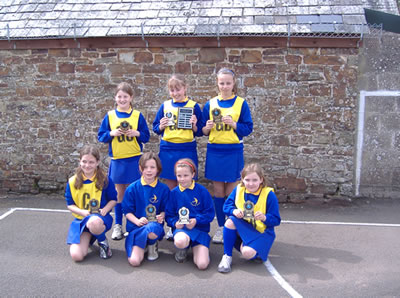 Sandymere Success
On 4th of February 2008 Bradworthy school's tag rugby teams set off to play a tournament
at Sandymere near Northam.

Both teams have been very successful in their last couple of games and we were looking
forward to doing really well again this time.

The A team had a couple of great games but some weren't so good because we didn't play as well
as we can do. The result against St Mary's was a 5-2 victory to us, and the other results
were against Grenville, which we won 4-3, then St Margaret's, another win by a score of 7-3.
But then lost to Westcroft, 6-5. Our last match was against Instow
and we got back to winning, but it was a close score of 7-5.
We are looking forward to playing Westcroft again so we can get revenge !!!

The B team results were really good and they won all of their matches, the first match was
against Instow, the result was 8-3, the next match was against Westcroft B and we won 8-5,
the third was against St. Mary's and it was a 7-1 victory. The last match was
St. Margaret's and we won 6-3.

Both teams played excellently and Miss Daniels was very impressed by us.
We left with happy faces and we enjoyed the day out a lot.

By Josh and Ashlea

Bradworthy vs. Highampton
On the 11th February Bradworthy's super netball team was
up against Highampton in the netball league.
It was an outstanding match between two good teams but when the
first period of the match was over we were winning 2 nil
thanks to Harley who scored the goals!
We were ready for the next period, but Highampton played really well and
by half time they had caught up with us and we were drawing!!!!!!!!!!
The last part of the match was here and Vicki scored a whopping 5 GOALS!!!!!!
With Abigail scoring 1 as well our team was doing really well..
The whistle blew and we had one outstanding score, 8-2 to us!!
After the match we were very happy with ourselves that we had made an
excellent effort and our effort paid of!
By Abbie and Lauren

Holsworthy Cross Country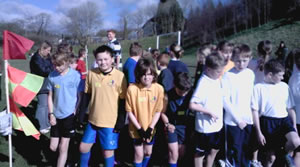 On Tuesday the 3rd March 24 cross country runners went to Holsworthy Community College to take part in the 2008 cross country festival.
We traveled by coach provided by Holsworthy in mild sunshine.
When we got there we were met by our team guides, Charlotte and Paul who helped us warm up and get to our races on time.
Before we knew it we were racing!
The 1st race started 1:40 it was the Year 3 race. Everyone did really well. Our top 3 runners were: Douglas, 1st, Jess 3rd (and also 1st girl to finish) and Stanley who was 11th .
Next, at 1:55, it was the Year 4 race. Everyone did really well again with our top 3 being: Gavin 2nd, Brandon 22nd and Alice 26th.
The next race was the Year 5 race at 2:10. Everyone tried their best again, and the top 3 from our school were: Ben Payne 4th, Matthew Thain 14th and Will Jenkins 26th.
The Year 6 race was at 2:25. Everyone ran exceptionally well, the top 3 were as follows: Joseph 2nd, Duncan 6th and Matthew 28th.
We think that we did really well with lots of us finishing in the top ten and quite a few in the top three. The best thing is that everyone ran there best and even we think that everyone was a winner, no matter where they fibnished!
By Harley-Jo, Sam, Matthew and Duncan.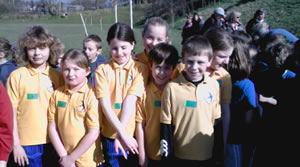 Netball Match
Broadwoodwidger
On the 28th of January Bradworthy Netball Team, played a match against Broadwoodwidger Netball Team.
We played at Holsworthy Leisure Centre, Bradworthy won 12-3 !
When we arrived at Holsworthy Leisure Centre, we were all a bit nervous about playing against
Broadwoodwidger, but in the first 6 minutes we scored 7 goals
and our nerves went away. Lauren scored 3 of the 7 goals and Vicki scored 4.
Everyone in the team was playing very well.
In the next 6 minutes we scored another 2 goals, this time scored by Abigail,
but Broadwoodwidger were also playing very well now and this
paid off because they scored their first 2 goals. At this time it was 9-2 to Bradworthy.
Abbie and Maddi were shooting during the next 6 minutes,
Maddi scored 2 goals which put us 11-2 to Bradworthy.
One of Middies goals was excellent because she scored from the outer line of the D.
During the last 6 minutes it was Vicki's and Beth's turn to score.
Broadwoodwidger scored one fantastic goal then Vicki scored one back,
which brought the score to 12-3.
This was a good win for us and we were all very pleased.

by Vicki and Maddie (Year 6)

Rugby World Cup

The week before half term a couple of us decided to do a rugby world cup on the playing field because England was in the World Cup Final. A lot of children joined in and played really well in it.

As the clocks struck 10.oo we gathered in Mrs Davies' Classroom to have a chat about the tournament. we discussed how the tournament was going to work and what time the games were going to be played and how long the coaching would last.

At 10.45 we were all out training and teaching the little ones all the rules. We also warmed up by playing different games like beat the ball and running lines. When we finished we were really impressed by how none of the teams moaned or argued, they just got on with it and all the groups worked hard and concentrated really hard.
After the training we all gathered on the stage and did the draw. Each of our House teams was given one of the World Cup quarter final countries.

The early rounds came and it got really tense between teams with close friends playing against each other. As the quarter finals passed some teams were sad and some teams were happy but everyone was pleased they had taken part.

The final came and it was between Puffins A (Argentina) and Herons A (New Zealand). The tension started and we were all shaking because we wanted to win the final. Herons were New Zealand so they wanted to do a Hakka, so we stood and watched them and to be honest it was really funny.
The whistle blew and the match began. At half time the score was 5 - 5. It was still level at full time and it was suden death and the next try wins it.
James threw the ball to Josh and he ran and dodged past everyone and it was a try !!!
Puffins had won the match and they celebrated. They ran over and shook hands with Herons.

I thought the tournament went excellently. Everybody played really well and hopefully everybody enjoyed it.

By Josh (Year 6)

2
Sports Leaders Award
As you've just read a group of our Year 6 children have recently organised and run a rugby
world cup competition in school. This is just one example of the work that our older
children do in support of our sports programme.
Our children don't just take part in lots of sports they also help organise and deliver sport.

Our new Sports leader Award is designed to encourage and reward this work.
During the course of the year the children will be working towards this and we'll
let you know how they get on.
Surfing Club
It was easy on the beach and just a little bit harder in the sea.
Football

We've had our best start to the season for several years with two
wins out of two in a couple of friendly fixtures prior to the start of the season after Half Term.

The photos show us playing Bradford (in red) and Clawton (in yellow).

Results:

Bradfrod 0 - 5 Bradworthy
Clawton 2 - 3 Bradworthy

Great Win for Bradworthy Netball Team

On the 5th November Bradworthy's A-Team went to Holsworthy leisure Centre for a netball match. We were determined to win as we were against Holsworthy.
As Soon as we got there we started warming up for the match. We practised spacing out and shooting to make sure that we got a good couple of goals in and were ready for the match.
In the team we only had one Year 6 and six Year 5s and we did not expect to win. The Year 6 was Vicki and the Year 5s were Abbie, Lauren, Rachal, Abigail, Pippa and Sophie.
In the first quarter we played our strongest players so we could score some goals. In that round Vicki scored both goals. In the second quarter Vicki scored one goal and the other team scored one goal. In the third quarter we had our weakest team but we pulled through with Abigail scoring one goal and Holsworthy scoring one aswell. In the last quarter Holsworthy scored another goal.
After the whistle was blown we were all jumping with joy as the score was 4 - 3 to us !!!

We cheered for Holsworthy and then they cheered for us. We shook hands to say well done and collected our stuff and went home.
We had a great time and were very happy that we had won and we couldn't have done it without all the support from our families and team mates.

by Abbie (Year 5)

2005 - 2006
Ten Tors Triumph !

These pictures show a group of our Year 6 children on Dartmoor during the Summer Term.

They walked nearly 15 miles during the day, visiting 10 different tors and spending just over
eight hours on the moor.

They designed their own route and were able to take turns leading the group during the day,
navigating themselves from tor to tor and taking responsibility for the safety of everyone who
was with them.

The children have been training for this event all year and have already been involved in five previous walks. This has given them the opportunity to build up the distances that they have been able to attempt and to gradually become more and more independent.

I think the children's achievement was magnificent. Their commitment and enthusiasm has
never faltered over the year and it has been wonderful to work with them.
This programme of activities has given them a whole new range of opportunities and
challenges and I know that they have all gained a great deal from them.

We've worked had at Bradworthy School over the last three or four years to develop our
programme of outdoor and adventurous activities and I hope that the children will continue
to participate in some of them in the future.

Devon Finals Day Was Here

The Rain pounded down hard but Bradworthy's cricket team still had a great day at
the Devon Cricket Finals on Friday 22nd June. They all had real fun.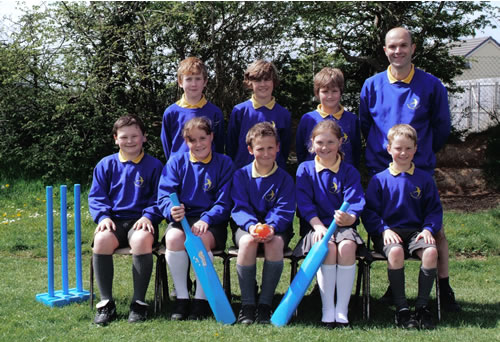 Bradworthy's cricket team travelled down to Newton Abbot to play in the finals tournament with
a new player in the team. Jack had been picked to play because Josh was on holiday.
We were in a group with Our Lady's School, Ermington and Hyde Park from Plymouth.
Our first match was against Ermington. We played well and had fun but unfortunately we lost
by 14 runs.
Our second match was against Our Lady's School. We had a good game again, we had fun
again and unfortunately we lost again, this time by 12 runs. We were quite disappointed but
we didn't show it.
Our third match was against Hyde Park who were a team that had played a lot of cricket so
we were up against really good opposition. We lost and this meant we couldn't qualify for the
final but we were still really enjoying ourselves.
We went into a play-off match, We were winning the match but when we got near the end it was
rained off. This meant we couldn't progress any further and the tournament couldn't finish.
The day was a great experience.
by Matt (Year 5) and Tom (Year 6)

Netball

On 9th June Bradworthy's Netball team went to play at Bideford College in their
annual netball tournament.

We played our first match to see if we would go in to th cup league or the plate league.
This match was played against St Mary's School. We beat them 6 - 0 which meant we
were through to the cup.

Our next match was against East-The-Water. unfortunately we lost this match 6 - 2. East-The-Water
went on to win the whole tournament.
Our next rew matches were against Langtree, Shebbear College and Bradford. We won these
matches very easily and this put us on good form for our next match against St Helens. This
match was very close, we ended up drawing 1 - 1.
We won our last two matches which were against Westcroft and St Margarets.

Everyone enjoyed their day and we were very pleased when they announced Bradworthy
as runers up in the cup.

by Meg (Year 6)

The Bradworthy Marathon

All of the children in Classes 3, 4 and 5 are currently running a marathon in support of SENSE
which is the charity that Mrs Davies is running for in this year's London Marathon.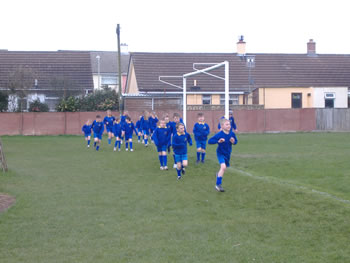 The children are running a mile a day until we get to the magical 26 miles and I think that it is great
that all of the children in Classes 3, 4 and 5 are having a go.
We haven't set the activity up as a competitive event, the children are simply challenging themselves to run,
or walk, at whatever pace they are comfortable with and I'm sure we'll all keep going over the coming weeks.
Hopefully we'll also raise some sponsorship money for SENSE which will be used to help deaf and blind children.
We Are The Champions!


Bradworthy tag rugby A-Team have won the Holsworthy tag rugby festival for the second time in three years!!!

On a wet and cold Tuesday 21st November, two teams from Braworthy School went to Holsworthy Community College to play in a breathtaking tag rugby tournament.

We cruised through the group stages coming first in our group but it was only going to get harder because in the semi-finals we played our old enemies from the group stages Bradford.
We had drawn 2 - 2 in the group.
The match was very tight at first and it could have gone either way but luckily for us we came out winners with the final score 7 - 4.

WHOOPEE !!!!!

We were in the final, all of our hard work training in school had paid off.

Our opponents in the final were Halwill.





We won the toss and had first pass which was a very good start.
So the game kicked off, there were tries galore, most of them going to us.

We had our own personal cheer leaders who were singing "2, 4, 6, 8 who do we appreciate ..... Bradworthy A."

When the final whistle went we were overjoyed. We were the winners.
The score was 9 - 2 to us.
When we collected the trophy everyone was pleased and a good day was had by all.

By Matt and Tom.
Shebbear Football Rally
We had two football teams at the Shebbear 5-a-side rally last Saturday.
Despite playing well our A-Team were knocked out of the second round of the competition, loosing 1-0 to a strong side from Abbotsham.
Our B-Team, on the other hand, had an excellent competition. They played four matches on Saturday morning,
winning two and drawing the others, to win their qualifying group. This took them through to the main competition in the
afternoon where they continued to play really well, reaching the semi-finals before running out of steam and
loosing 3-0 to Clawton School.

Football Results
| | | |
| --- | --- | --- |
| Bradworthy A | 1 - 3 | Holsworthy |
| Halwill | 5 - 0 | Bradworthy A |
| Bradworthy A | 1 - 4 | Clawton |
| Bradford | postponed | Bradworthy A |
| Bradworthy B | 3 - 3 | Broadwoodwidger |
| Bradford | 1 - 3 | Bradworthy B |
| Highampton | | Bradworthy B |
Netball Results
| | | |
| --- | --- | --- |
| Halwill | 1 - 5 | Bradworthy |
| Broadwoodwidger | 3 - 10 | Bradworthy |
| Highampton | 3 - 5 | Bradworthy |
| Langtree | 5 - 10 | Bradworthy |
| St Giles | 7 - 7 | Bradworthy |
| Bradford B | | Bradworthy |
| Bradford A | | Bradworthy |
Cross Country Running
Grenville College Race

Our children had an excellent afternoon taking part in Under 11 and Under 9 races for boys and girls.

The marathon running we have been doing in school recently has obviously paid off because our children competed very well. Especially when the high quality of the event is considered, and the huge number of children racing in each race (over 150 in some races).

A special well done to Joseph and Ben form Class 4 who finished 6th and 10th in their races.

Several children finished in the top 30 and nearly all of our runners in the top 50.
Sponsored Skip

Bradworthy School did a sponsored skip in the Memorial Hall for the British Heart Foundation.
We all had lots of fun.

The different kind of skips that we did were hop scotch, front and back, twister, jumping jax and x-its.
Classes one, two and three went in the morning and Classes four and five went in the afternoon.
We went with Clare and Robin who are our sports coaches.

When we had finished we had raised a lot of money. Some will go to the Heart Foundation and we will use some towards some more PE equipment.

Clare and Robin would like to say a big thank you to everyone who took part.
Sports Day, Summer 2006
Tuesday 18th July 2006 was our school sports day.
This event takes up the whole of the day. We start in the morning with classes 1 and 2 and in the afternoon, years 3, 4, 5
and 6 do their sports.
Parents are free to come and go from morning to afternoon to watch their children participate in the events.
This day always depends on the weather.
This year was probably the hottest we have ever had, so we had to drink lots and stay
in the shade when we weren't taking part.
Each year 4 teams take part in this really good event the 4 teams are named
Puffins, Herons, Robins and Magpies.
In the morning we played netball and football first and then tag rugby and hockey.
Robins won the netball competition with Jessie Bayliss scoring the winning goal.
Robins also won the tag rugby when Bradley Howells finally got the winning try after loads of extra time. The score was 5-4.
Magpies won the hockey and the football competition was won by Herons.
Classes 1 and 2 did the egg and spoon races, running races and a mini football competition.
They all had lots of fun in the morning doing activities and watching other people.
They all tried really, really hard.
In the afternoon all of the older children went out into the playing field to do our athletics.
The 4x200m relay was very close between Matt Carter and Joseph Fenny with matt storming ahead then Joe caching him up and on the home
straight, Matt found some energy and won the race it was very close though.
In the long jump competition it was very close until the last round where Meg was 3rd Ruth was 2nd and Elliot was 1st. Meg jumped
but she had no progress and stayed 2nd. Ruth jumped and she jumped a whoping 3.03m that put her in the lead. Elliot jumped last
but failed to get the great big total of Ruth.
Everyone worked really hard and we had a great afternoon.
This year the winners of sports day were Herons.
In 2nd place was Puffins, in 3rd place was Magpies and in 4th place was Robins.
By Daniella Stevens

Devon Cricket Final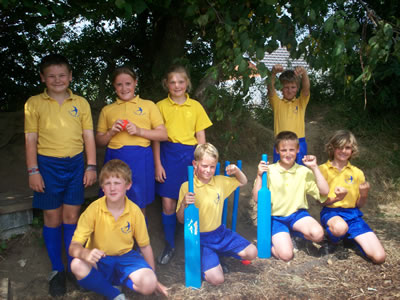 Bradworthy school took a cricket team of year fives to Newton Abbot on Monday the 19th of June. It had all the best year five cricket teams in Devon even though some teams had year sixes.
We got there by coming second at a tournament at Instow, we lost to Westcroft who won all of their matches. We won all of our matches apart from the one against Westcroft. The people that were picked for the team were Thomas Vallance, Meg Furse, Matt Carter, Elliot Lewis, Becky Andrews, Josh Curtis, Andrew Weare - Gifford and Connor Morris.

Our first match at Newton Abbot was against Rydon School, they were a very good side and ended up winning the tournament and this qualified them for a tournament in east Devon. Although we lost the game, we put up a good fight.
The next game we played was against Stockland, they could smack a ball, every time they hit one it went into the trees. When we batted we did well and in the end we only lost by seven runs, which was very good because Stockland came third in the end.
We won our next two matches. We won by five runs in the first match because they kept catching us out. They didn't get that many runs but we kept hitting them in the air so they kept catching us out. The next match we played we batted first and got lots of runs Elliot Lewis even hit someone in the crowd! We won the game by twenty five runs.
The last game we played was against Westcroft who beat us as usual. We lost quite badly, 30 runs to be exact, but we still played very well and came 9th out of the twelve best teams in Devon which isn't bad. We all enjoyed it and are very proud of ourselves.
By Elliot Lewis.

Rock Climbing

Some of our Year 6 children have been taking part in a climbing club this year.
We climb after school every Monday at the Barn Climbing Centre near Bude.
These photos were taken at on our first outside trip of the year at Northcott Mouth.
We have also climbed on Roche Rocks near Bodmin and at Trefyn Bach in Snowdonia.

Our children have developed a very impressive range of skills and it was fantastic to see them put them in to practice outdoors on the rocks at Northcott.

The children have not only developed as climbers but have also developed the skills needed to tie knots, organise ropes safely and belay each other.

The team work that they have shown and the trust they are willing to place in each other is exceptional.

The walk in, a climb in itself.





It wasn't all hard work !

The picture to the left of this writing shows Amy at the top of an impressive climb called Dangerous Driver.
It is rated E1 and this is an outstanding effort on her part.

Lawrence and Jessie got very close but didn't make the final move.

The picture on the right shows our children bouldering.
CrossCountry Running
These photos are from the competition at Grenville College which took place on Friday 24th March 2006.

Joseph was again our best placed runner when he finished 10th in the Under 9 Boy's Race.

In all we took 20 children and a number of them achieved top 50 finishes.
these included Abigail, Josh, Matthew, Maisie, Ben and Harley-Jo.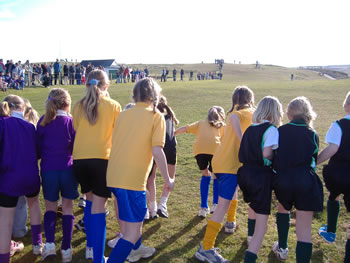 The picture shows our boy's Under 9 Team heading up the hill and our Under 9 girl's on the start line in the
cross country running event which was held on the Down at Bude.
Joseph Fenny was our best place runner, coming in 6th in a field of over 100 runners from across
the South West. Both teams finished in the top 10 which is an excellent result.

Hockey
We took 4 teams and 28 children to Holsworthy to play in a hockey competition.

We had a great time and although none of our teams were successful we had a really good time.

I think we learned a lot from the experience and we are already looking forward to a lot more success next time.
Netball
We Won The Cup On Thursday 20th July Bradworthy netballers beat Langtree in the finals and amazingly we won!!!!

We were all very excited when we left school on Thursday morning, but very nervous too. We arrived at Bradford school at 9:30. Our first match was at 9:45 against Bradford which we won 7-2. In the first half Becky Andrew and Jade Gifford were shooting and we were 4-0 up. In the second half Meg Furse and Debbie Jones were shooting and scored 3 to make us win 7-2. The next game was against Langtree B and we had another very successful win with a score of 8-3. By this time every one was warmed up and ready to rumble. Then we found out who we were playing next… the mighty Langtree A. We were all nervous again because Langtree had knocked us out in the semi-finals of the Merton Rally. They also won the cup at the Bideford tournament and we won the plate.
This game was tough and very close and unfortunately we lost 5-3. We were all disappointed but we didn't give u., Our next game was against Broadwoodwidger. We knew that if we won this we would have a good chance of being in the finals. In the first half it was very close and the score was 4-4 but we didn't stop there, in the second half we pulled away to victory and the score was 8-4.
Meanwhile we realized the footballers had made it to the finals, hip, hip hooray!!! Guess what? We were in the final as well, but it was against Langtree uh-oh. We weren't going to let that put us off. In this game we we went back to our original shooters, Becky and Jade. They scored the first goal but Becky wasn't having that and scored the equalizer. In the second half Debbie Jones and Meg Furse went on to shoot, then Debbie shot and it went in so we took the lead then Meg had had 3 shots and they all went in. So we were winning 4-1 but then Langtree fought back and scored two, luckily for us they ran out of time so victory was ours.
Three cheers for Bradworthy hip hip hooray!!!
We won the cup!!
By Meg Furse

The Netball Match

On Thursday 24th of November we played a netball match against Edghill School.
It was an after school match, played on Bradworthy School's playground.
The weather was cold but dry and everyone was very excited about the match.

We won the match, the score was 3-1. Bradworthy scored first the one
who scored was Claudia. It was a fantastic goal, she is
only in class 4 and she is only 8 years old and she is the youngest in the team.
Edgehill then got a point back. We felt tense and we got butterflies in our tummies. Debbie, then Becky scored a goal each and that gave us a 3-1 win.

It was a very friendly match. Everyone enjoyed the game.
"Three cheers for Edgehill" said Oliver the team captain.

By Jade ( Year 5 )
Bradworthy vs. Saint Margaret's

On the 22nd of November 2005 Bradworthy School played Saint Margaret's school at Netball.
Miss Rebecca Daniels, coaching Bradworthy, chose Ollie, Jessie, Amy,
Meg, Danielle, Becky and Debbie for the team.

On the 22nd of November 2005 Bradworthy Primary School's
netball team drove to Northam to play Saint Margaret's.
It was a very good opening to the match with Meg scoring for
Bradworthy in the first quarter. However minutes later Saint
Margaret's got a point as well making it 1-1.
The second quarter was the same 1-1.
On the third quarter Meg scored again and Ollie scored for
Bradworthy from the very end of the D making it 3-1.
But disaster struck Bradworthy when Saint Margaret's scored one,
and another, seconds before the whistle blew, making it 3-3.
In the end a tie is the best score you can get.

Miss Daniels said "Everyone played very well even though it was freezing."

So who will Bradworthy play next; find out in the next issue of the Homework Times.

By Ollie ( Year 6 )

These pictures were taken at our first netball match of the season which was played against Grenville College.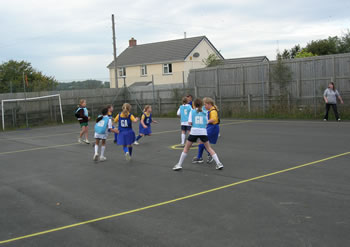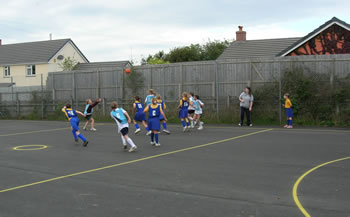 Unfortunately it was a loosing start with our children going down 5 - 3.
The match was close and although its always a shame to loose our team played really well, especially
when you consider this is their first match together.
I'm sure we'll have an excellent netball season.
The Football Season at Bradworthy School.

Last But Not Least
On the 20th July a football and netball team went out to Bradford to play in a tournament. In the football team there were some people, like Bradley H and
Ben M who are going to holsworthy so it would their last tournament. Other players were Elliot Lewis, Tom Vallance, Matt Carter, Josh Curtis, Joseph Fenny, Jake Bentley-Jones and Gavin Carter.

For our last tournament it went well, we drew our first match 1-1 against Langtree A. Then for the next match against Bradford A the holders of the tournament. It was a hard game but we held them out for a 0-0 draw. Our next game was against Broadwidger Matt Carter scored. Bradley Howells scored after that and then he scored again we won the match 3-0. We then played against Bradford B who we beat 3-0. Bradley scored a Joe Cole goal chesting it down and volleying it top corner. Gavin Carter scored after that, someone had a shot and the keeper saved it pushing it out to Gavin who shot and scored. After that Gavin scored again.
Because we had done so well that got us into the final against Bradford A. we did very well but they won scoring two sneaky goals. But we were all very pleased about our achievement and our teacher Mr Furber said we played very well and thinks we will do very well next year.
By Tom Vallance and Elliot Lewis.

Merton Rally Football
Bradworthy football
At Merton on Saturday 29th
of April.
Bradworthy took two teams out to Merton on the 29th of April. The B team played their first match at ten o'clock and the A team at quarter past ten.
The A team won their game six nil and the B team lost theirs one nil.
Bradworthy went over to Merton on the 29th of April to play football, the B team went over first and played against Merton the hosts of the tournament. They played against there A team which are a good side. The B team done surprisingly well to only lose one nil. The people that played were Matt Thayne, Maisie Lassett, Jake Bailey Gavin Carter, Joseph Fenny, Andrew Weare Gifford and Duncan Martyn.
Their was also an A team at the tournament which played their first match against Umberleigh which were a weaker side than us, we ended up thrashing them six nil just like England will to Brazil. The scorers were Elliot lewis scoring a hatrick and a goal in about ten seconds, Shane Shadrick and Matt Carter, the other players were Bradley Howells, Jake Bentley Jones, Ben Moulder and Josh Curtis.
The B team played their second match against Merton B team which was a weird surprise but I think it was deliberate that they were drawn together. It was an unlucky loss because there were two goals in the last two minutes. They were gutted but weren't too upset, they went home with a good spirit ready for the next time.
The A team played their second match against Langtree A which are a good side. It was a thrilling match against them but the A team were very unlucky, they let in an unfortunate goal and every shot they had after this was denied the keeper or the posts. When they lost they were gutted but there manager Mr Stevenson said we played our best but unfortunately we lost.
By Elliot lewis.

Bradworthy v. Monkleigh
We played a very even match against Monkleigh School on Thursday 23rd March.

Both teams played some really good football and the game was tied at 1-1 until late in the game when Joseph burst through to score our winning goal.

Our team ran out winners by a score of 2-1.
Shebbear 5-a-side Rally
The school was represented by two teams at the Shebbear College five-a-side rally last Saturday.

I think that the boys had an excellent day out and although we weren't able to retain the trophy both of our teams played some excellent football and should be very pleased with their efforts.

Our B-Team was made up of children in Years 3 and 4 and contained: Matthew Thain, Andrew Wear-Gifford, Joseph Fenny, Matthew Carter, Josh Curtis and Jake Bentley-Jones.
They played really well in the morning to win their group and qualify for the afternoon competition where they made excellent progress to reach the semi-finals of the plate where they lost narrowly to XXX.
For such a young side to do so well is amazing and I think we have a very strong side coming through.

Our A-Team contained: Bradley Howells, Thomas Vallence, Ben Moulder, XXX and XXX.
They also played well to progress to the semi-finals of the main competition, with XXX scoring several goals. Unfortunately they lost this match narrowly, by a score of 1-0, to Instow School who went on to win the tounament.

A Win Against Hartland

Our football team finally got back to winning ways in our last match of the Autumn Term.
We put the poor results of the last few weeks behind us, putting in an outstanding performance to win 9 - 1.
This is our biggest win for a couple of years and if we can maintain this form in the new year we are going
to have a very good second half to the season.

Another Away Defeat !!!

After a very bright start to the season our recent bad run continued on Tuesday 22nd November
when we slumped to a 4-1 defeat at St Margaret's School in Northam.
In truth there wasn't a great deal between the two teams we just couldn't manage
to take the chances that we had in front of goal.

Despite our poor results lately the children are continuing to work hard and they are
keeping their spirits up. We are looking forward to better luck in our last match
of the term at Hartland next week.

East the Water v. Bradworthy

We played away at East the Water School, in Bideford, on Tuesday 15th November.
I don't think that there is any disgrace in the fact that we lost 7 - 0.
East the Water turned out to be an excellent side and although a couple of their goals
were a bit luckly there is no denying that they were more than a match for us.
On a positve note at least we now know all about the standard which we need to reach
if we are going to be successful this year.

Our most recent matches have been against Westcroft A and B and against Appledore.

Our busy start to the football season has continued with our children taking part in matches against Appledore and Westcroft.
We had a slow start against Appledore and after 10 minutes we were 2 - 0 down and struggling and this was the score at half time,
We managed to raise our game at the start of the second half, scoring three quick goals which gave us a 3- 2 lead.
Unfortunately we couldn't keep up this high level of play and Appledore came back to equalise and the match ended 3 - 3.

Our match against Westcroft was very even and although we took an early lead Wescroft came back strongly and we
needed a late goalto keep the score to a very repectable 3 - 2 defeat.

Our A Team played their first match of the season on Thursday 13th October
and it proved to be a fantastic start to the new season.

Its been quite a few years since we last played a match against Parkham School and it was
wonderful to be able to go over on such a warm, sunny afternoon and to be involved in such
a friendly and relaxed game.
We hear so much about the poor sporting behaviour of star footballers and it is really nice to
be able to report on a school's match which really was played in the right spirit.

The match itself was a very close affair in the first half with both sides playing some good
passing football and by half time Bradworthy were ahead by 1 - 0 with Matthew Carter scoring
a well taken goal.
Our team stepped up a gear in the second half with XX playing exceptionally well in
midfield. He scored one goal himself and sent a number of excellent crosses into the box from the
right wing, helping XXX to score a well taken hat-trick.
Parkham grabbed a consolation goal but our defensive play was very organised throughout the match
and we ended up winning by a score of 5 - 1.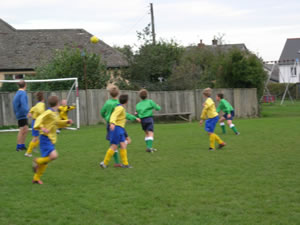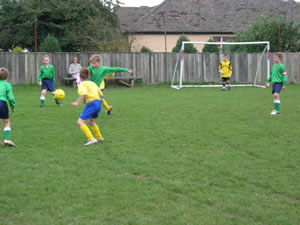 These two pictures are from our first home match of the season which was against Grenville College.
The match was a hard fought draw with XXX scoring our only goal ( his fourth of the season
in only our second game ).
We were 1 - 0 behind at half time and the boys had to battle backin the second half to level the match.
Tag Rugby
These pictures show our tag rugby teams taking part in the Bideford Area Tournament.
Our A-Team played really well to reach the semi-final which we lost 5-4 against Ilfracombe School.
These photos are from our match against Edghill
College on Thursday 24th November

The match was played in a mixture of rain, heavy
rain and hail, and despite the intensive
coaching session pictured below we
slipped to a 15 - 10 defeat.

We took two teams ( and 20 children ) to Westcroft School to play tag rugby last week.
I have to admit that we were feeling a little nervous due to our lack of recent practice because of
the terrible weather we have experienced during the first couple of weeks of November.

This said I thought that our teams played brilliantly.

Our B team played in a very tight match, coming out as winners by a score of 11 - 10.
It was a good team performance but I think we should note the contribution of Joseph Fenny
in Year 4 who scored an outstanding six tries.

Our A team played very well agianst Westcroft B, putting on a convincing display to win 12 - 9.
Their match against Westcroft's A-Team was a much more difficult affair.
We were competative throughout the match, with Jade Gifford playing extremely well to score three tries,
but in the endWestcroft were too strong, beating us 10 - 6.
Cricket has been the number one sport in school since England's fantastic performance in the summer, when they beat Australia to regain the ashes.

We're not sure whether we've got any budding Freddie Flintoffs or Shane Warnes yet but there is certainly plenty of enthusiasm.

Cricket is the new game of choice on the playground and we have started a cricket club which we will be running throughout the year.
Even when the weather is poor, as it is in these photos !!!
Climbing Club
Climbing club has started again.
After last year's success we are hoong for another good year working with Simon
at the Barn Climbing Centre near Bude,
2004 - 2005
Each year we make awards to the boys and girls who have achieved most, tried hardest and shown the best sporting attitude.
This years awards were presented in front of the school and a large audience of parents at our end of year assembly.
The awards were as follows :
Sporting Achievement - Dan Furse
Sporting Achievement - Beth Radford
Sporting Effort - James Weaver
Sporting Effort - Michaela Stevens

| | |
| --- | --- |
| | The school netball team has had one of it's best ever years, finishing as runners up in two competitions and having a lot of success against local schools. |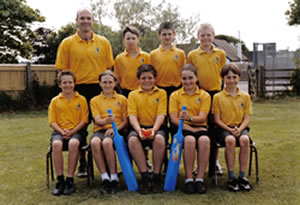 This is our cricket team.
We have a strong cricketing tradition in school,having qualified fort he county finals at Newton Abbott on several occasions. A few years ago our under 10 side were county champions.
This year we failed to qualify, losing to Umberleigh School by one run.
You'd have thought our "Australian Yellow" shirts would have got us through, but with the way the Ashes are going I suppose we are having the same amount of success.
The Year 6 climbing club ended in July with Emma Lewis being voted climber of the year.
20 children took part at different times.
Year 5 have had their taster visits and the club will be starting again in September.
Our school tag rugby team had a fantastic year.
We fielded an A-Team, B-Team and Youth Team during the course of the year and over 30 children regularly attended our school club.
We were Holsworthy and Torrington Area Champions and runners up in both Torridge and North Devon.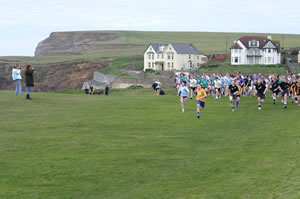 The school has taken part in a number of local cross country running competitions with Beth Radford having a great deal of success.
She's the yellow dot at the front of this field in the race at Summerleaze Down near Bude.
This is our football team celebrating their win in this years Shebbear College Rally.The final produced a very close match with our side winning on penalties after drawing 1-1 with Shebbear College.
Our league campaign was a little disappointing with several defeats however we were unlucky to loose on penalties in this year's Merton Rally.
We have also fielded a girl's side and an Under 8's side.

This is our Under-6 team team with Claire just after winning the Holsworthy Area Rally. There seems to be a lot of hope for the future of football in Bradworthy School.