» Contact Information



» Term Timetable



» Year Groups and Classes



» General Information



» School Grounds



» Dinners and menus



» School Uniform



» Current Governors / PTA



» Fun Stuff



» School Work and Homework


» School Honors Board


» Home Page


Over the last few years the school has been very involved in drama and musical activities both as a result of our curriculum work and after school clubs.

We have written, produced and performed large scale Christmas musicals which have involved the whole school, and which we have performed in both a packed village hall and our own school hall for up to 250 people.

We have performed musical versions of Scrooge, Charlie and the Chocolate Factory, The Jungle Book, The Yellow Submarine, Fantastic Mr Fox,
Josie and Her Amazing Technicolour Space Ship,
Batman the Musical, The Island of Treasure, Murder at Muddlestone Manor, James and the Giant Peach and this year our very own
Robin Hoodie.

Fleasop's Flabulous Flabels.
Brass

.

This is part of our Brass Band rehearsing a head of their first ever public performance which was at the Year 3 / 4 Easter Play "Fleasop's Flabulous Flabels"

There's a rumour going around about a summer concert so watch this space .....
Scooby Dooby Doo !!!
Robin Hoodie

This year's school play at Bradworthy school was ROBIN HOODIE .We performed three shows this year. They were on Tuesday 16th, Wednesday 17th and Thursday 18th. We have worked on this play since September and I think it all paid off.

In the play we have the sissy Robin Hoodie (played by Ben). I think he would rather play with his Barbie than do this play!
Next we have his bunch of sissy merry men (Will, Tuck, LJ and Much).
Now lets move on to Moody Marion (played by Lauren), Marion is an all round tomboy and with her lady in waiting (Ashlea) they plan to take down the baddies.
The baddies are the evil Show-Off of Nottingham (Jake) some Guy from Gisborne (Abigail) and Prince John (Rachel), they don't get along with Robin and his merry men, and they plan to destroy Robin.
Last but not least The 4 JESTERS, Jester 1 (Beth) Jester 2 (Erin) Jester 3 (Sophie) and Jester 4 (Abbie).
The Jesters get up to all sorts of fun which includes doing funny dances, saying silly things and much more stupid stuff.
That's all the main actors but there are also many, many more actors, singers and dancers…..

The whole play would not have happened with out the help of Mr Furber (our director), Mr Dawson (our song writer) and Miss Daniel. I am sure they are all very proud of us!!

We think it was the best play in the world !!!
And the audiences agreed !!!

By Abbie and Lauren (Year 6)




Its nearly December when it will officially be Christmas !!!
Less than three weeks to go to the first performance !!!
This is the first time we've tried our costumes on .....
They're fantastic, lets hope we are too !!!
This year's Christmas Production is .....
You'll probably be able to guess if you take a look at some of the children
taking part in our auditions, and if we tell you which parts they got.
From top left we have:

Little John, Prince John and

Friar Tuck.

On the bottom we have:

Maid Marion, Robin Hood and

the evil Sheriff of Nottingham.
This year's play is, of course, Robin Hood.
Watch this space to keep track of how we are getting on.

The first step is of course to build two enormous towers and put a huge stair case
in the middle of the stage so that we can't fit any children on !!!
As you can see, rehearsals have started !!!
...... and we're building and painting the stage :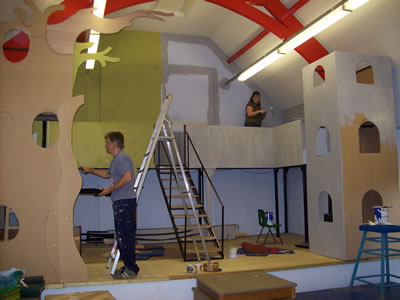 James and the Giant Peach.
There was an evening at Bradworthy Primary School in December 'when something rather peculiar happened. And this rather peculiar thing then caused a very peculiar thing which in turn caused the most peculiar thing of all…'
In a musical adaptation of Roald Dahl's James and the Giant Peach the audience were spellbound by a world of crazy creepy crawlies, angry cloud people, rock n' roll seagulls and a twenty foot high peach which grew miraculously from the top of a tree. With original songs delivered by the impressive choir, breath-taking costumes, excellent narration (from Jake Bentley Jones as Roald Dahl himself) and plenty of humour, the children re-told this magical adventure brilliantly. Highlights included Lauren Dunn's delightful portrayal of the young hero James Henry Trotter and no one who saw it will forget the comical villains Aunt Sponge and Aunt Spiker (Lianne Seager and Megan Winfield).
Outstanding performances were also given by the weird and wonderful collection of bugs and beasts found at the centre of the peach- including pompous old grasshopper (Ben Payne), cheery glow worm (Sophie Kent-Woolsey), the spider (Victoria Urquart), the silkworm (Jessica Baker), ladybird (Ashlea Hudson), multi-jointed centipede (Matt Carter, Josh Curtis, Duncan Martyn and Joseph Fenney) as well as the much maligned but hilarious 'Wormy'! (Tia Woodhouse)
All in all it was a night to remember and one that left the audience in no doubt that they had been on a weird and wonderful adventure!

Click this image of James on stage to download Dreamories.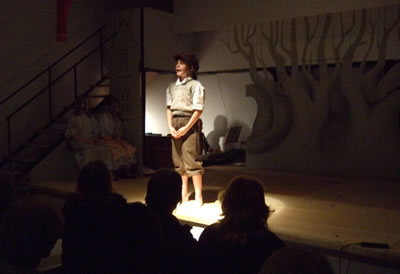 The file is a 9MB Windows Media Audio/Video file which will play in Windows Media Player.
Don't forget, you can get in touch with our office if you would like to buy a copy
of the DVD of the whole play.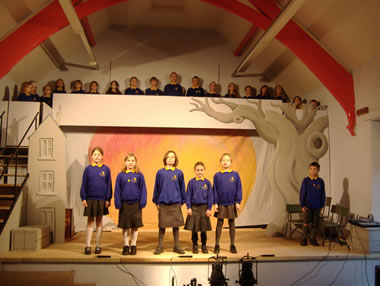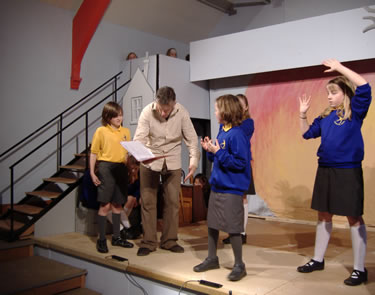 It's the 6th December, tickets are out, we're still rehearsing and there's only one week to go !!!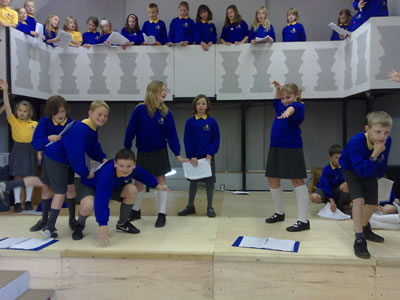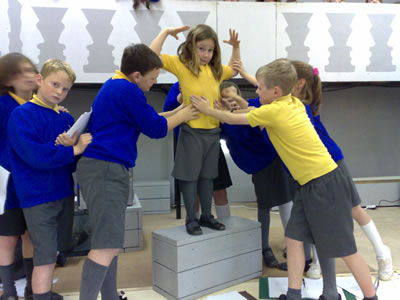 These photos are from our first rehearsal after the Half Term Break.
Its November and there's only six weeks to go!
We've got plenty to do but we're going to get there.

Performances will be on Tuesday 11th December (afternoon), Wednesday 12th December (evening) and
Thursday 13th December (evening).


Murder at Muddlestone Manor, 2006
A Murder at
Bradworthy
School!

Here at Bradworthy Primary School there has been a terrible crime…
Someone has gone and murdered old Marmaduke. But don't be alarmed this is just another fabulous musical Christmas extravaganza.

As I'm sure you already know Bradworthy Primary School have been working on the Christmas play, murder at Muddlestone Manor, which has taken place on 12th, 13th, and 14th of December.

The play has been a great success and the children really enjoyed themselves and I'm sure they would love to do it again. Lots of hard work has been put into this master piece but its not always been that simple!!

Some people got into major panics while some just got really tired. We didn't let this stop us "The show must go on!" Mr Furber kept telling us.

The hall was packed with people and they were a great audience to perform to!

All in all it was another great musical Christmas !

The play included many great characters from Butlers to crime solving grannies!
The Butler was played by
Zak Smart,
Miss Marble, Meg Furse,
Marmaduke, Elliot Lewis,
Lady Lavinia, Maisie Laslett,
Reverend Green and his wife Tom Vallence and Jade Gifford,
Miss Scarlet, Lianne Seager
Captain Peacock, Mathew Carter,
Colonel Mustard, Josh Curtis,
Professor Plum, Ruth Payne,
And
Mrs White, Megan Winfield.


The play script was written by Mike Furber.The music was developed by David Dawson and played by Becky Daniel and David Dawson.



They performed this on an amazing stage which was built and designed by Tim Payne and John Baker and Painted by Clair Rothwell and Brian Sentence the props were also made by Mr Sentence.
As usual the costumes were great, this year they were in black and white to give an amazing effect. The costumes were made by :
Julia Barker, Caroline Furse, Val Brown, Jackie Radford, Sarah Thomas, Teena Cann, Mandy Andrews and loads of other parents who made things at home.

Ruth Payne says,"I loved performing and playing professor plum although it was scary up on stage I would love to do it again."

Mr Furber quoted, "It was amazing and everyone
Worked really hard, the singing was outstanding and the ocarinas were okay!"

Meg Furse quoted,"I really enjoyed playing Miss Marble and performing for an audience. I was very nervous at the beginning but we all did really well and it was a great play to perform as my last one."

Mr Stephenson said how very proud of all of the children he was. He quoted, "The play was fantastic and its all down to the hard work that everyone has put in, especially the main actors!
I think that the way that everyone in school works together is brilliant and I'm already looking forward to next year's play."

By Meg Furse and Ruth Payne.
The Island of Treasure, 2005
Behind the scenes everyone was busy getting into costume, putting on make-up and very busily playing
Game-Boys ahead of the performances :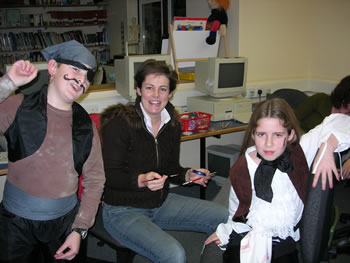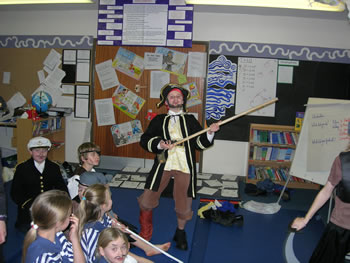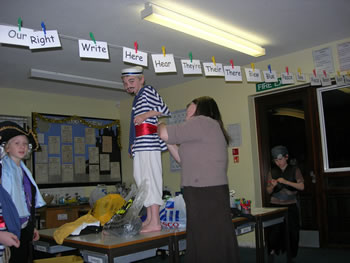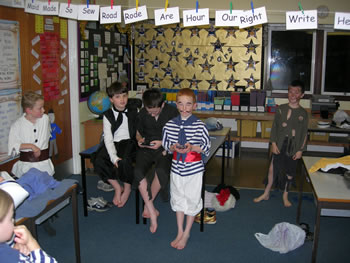 And as for the play itself it was an amazing success !
Our Christmas play is one of the biggest events in our school year and I am delighted that this year's performance was such an outstanding success.

Our play is a real team effort and I would like to thank all of our parents and staff for their hard work.

I would also like to place on record how very proud I am of all of our children.
They have worked very hard over a long period of time and the success of this play is down to their hard work and commitment.
Its the end of November and the play is getting closer !!!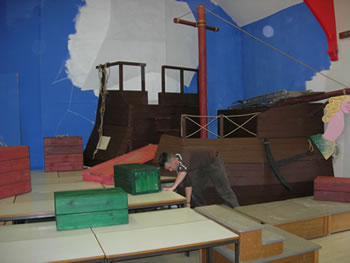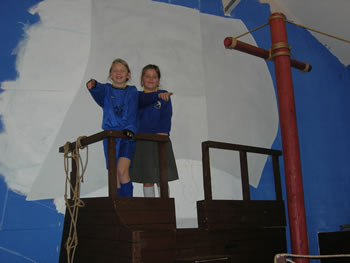 The construction of our stage is well under way.
Our ship is almost sea-worthy and our director, Mike Furber, is working on the docks.
Our Good Captain and the Ships Doctor can be seen rehearsing on the bridge,
( hopefully the captain will be wearing something other than a rugby kit for the
actual performance !!! ).
Our play is called The Island of Treasure and as its now October we have obviously started rehersals.
Our hero from last year's play looks
down on rehersals for our new
play and knows his days
are numbered !!!

It has to be admitted that the hall
doesn't look much like a desert
island yet, and the costumes
are more school uniform than pirate,
but the script and songs are
written and we are underway.

Our directors, Mr Dawson and
Mr Furber, are pictured below.
One of them is actually
working with some children
which is always nice to see.

Some scenes from our Christmas 2004 play Batman the Musical.
Other musical work has involved children writing and rehearsing and adapting musical compositions before going on to produce CDs in a local recording studio.
We employ a very talented music teacher called Dave Dawson.
This is him teaching a traditional Maypole Dance, to the not very traditional sound of rock music.
Our Year 5 and 6 children also regularly take part in the Devon Youth Prom. In spring 2003 they wrote and produced a five minute musical based on the "Vile Victorians" which
they performed at the Queen's Hall Theatre in Barnstaple in front of an audience of 1000 people.
last year we did a similar piece based on The Egyptian Topic they were studying and this year they took part in an even bigger event at The Devon School's Mix, at the
Westpoint Arena near Exeter.
These children performed at The Queen's Hall in Barnstaple last year.
No pictures of this years Westpoint Arena show because someone forgot the camera.
I can't begin to think who though !!

The pictures show us in make-up, behind stage waiting to go on and on stage ( as seen from the wings ).